TransitionHERO has developed a smart method to streamline the selection and design of heat pump solutions for various industrial applications. Our smart tool applies our parametric engineering approach in which inputs can be varied in order to calculate the business case and cost drivers for a variety of situations.
The smart tool will help us to quickly develop a business case and to compare various measures to reduce energy and carbon footprint. The tool will also help us to specify a given solution with sufficient detail that it can be readily implement. Such a tool really helps speeding up the energy transition within the industry.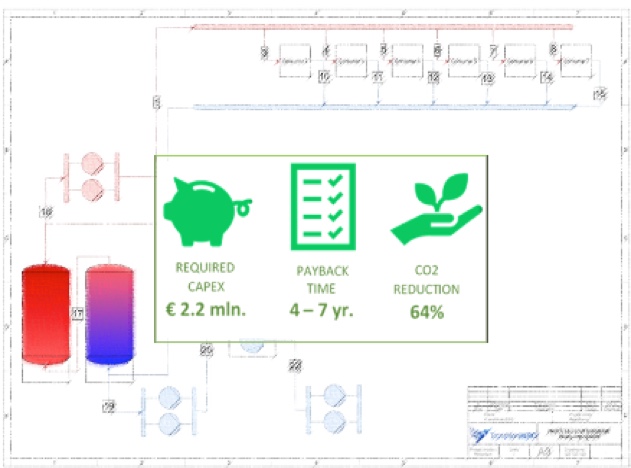 The Challenge
In the next years, all industrial processes will need to change from fossil energy to renewable energy. One of the most promising technologies for many industrial processes is heat pump technology. Heat pump technology is available in many types and sizes. Depending on the size and type, different useful temperatures can be generated to produce steam, hot oil, hot water or another media. When starting a heat pump project many variables, options and questions are on the table.  The challenge is to shape the business case in such a way that the outcome is a reliable system with an acceptable payback time, and ready to be implemented.
The Solution
In order to tackle this challenge, we have invested in a robust tool which provides a standardised approach and supports automating the design for heat pump solutions. With this parametric selection tool, we can quickly identify the most suitable configurations for a heat pump system from several possible configurations.
Following selection of the most appropriate configuration, the tool allow us to further fine-tune that system for optimization based on numerous constraints (e.g. process conditions, site limitations, and business case: CAPEX and OPEX). Ultimately, this allows us to quickly respond to different client demands and communicate it in a format which is most useful for stakeholders. and quickly adjust the solution to the wishes of the client. Finally, the tool improves the scalability of a specific solution so that it can be implemented at multiple sites.